It's no secret that it's been open season for home sellers for sometime now. With mortgage rates still relatively low and demand for homes in many areas outstripping supply it's shaping up to be another busy spring selling season.
That all said is there a "sweet" spot than when it comes to the timing of selling a home? The perfect storm when the maximum price can be achieved? Well, according to research the answer is "yes" and according to the latest research the best precise days to be selling a property in 2019 are coming right up.
Attom Data Solutions analysis of 28.5 million home sales between 2011 to 2018 reveal that May and June are the months when sellers are likely to net the best return from a sale – at least 7% more than actual market value.
More precisely the next best date to sell a home is coming right up on May 24th when homeowners can expected to exceed the market average by 10.5%. In turn homes sold on June 28 (+10.6%), May 31 (+10.7%), June 21 (+10.7%), June 20 (+10.6%) and May 24 (+10.5%) are the other dates to garner the "best seller premiums".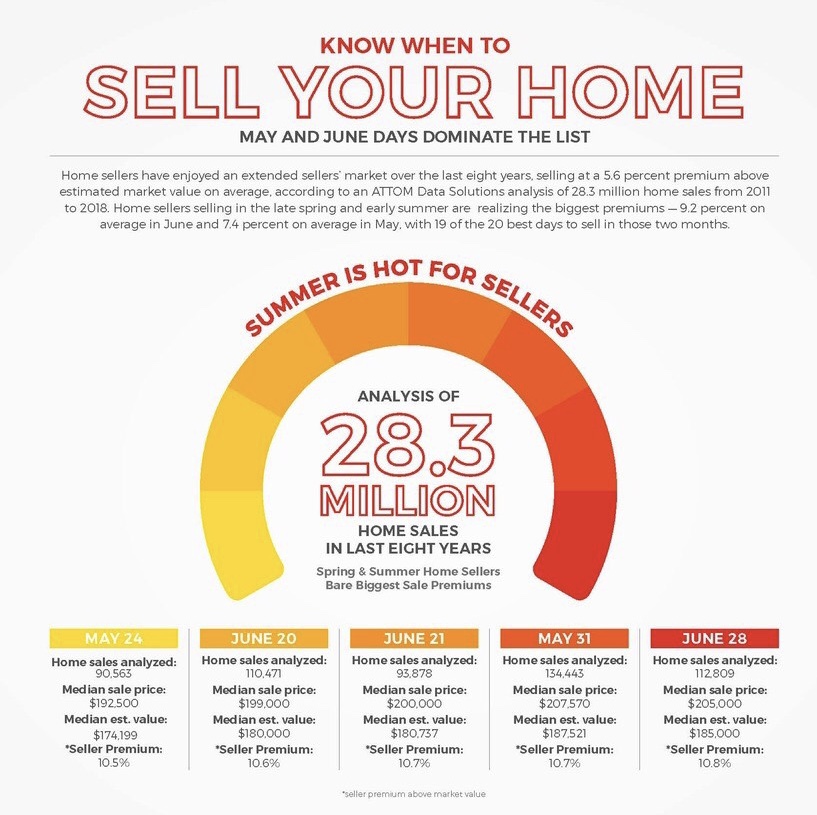 Speaking to Inman News, Attom chief product officer Todd Teta, said: "There are more buyers in the market in the spring and summer due to a few variables — school is out, post-winter weather, post-super bowl so no football on the weekends, etc.
"And with more buyers creating more demand during those months, there's a 90-120 day lag, which then opens the window for those homes to close in May or June."
Meanwhile, Teta also forecast that an increase in inventory isn't expected to lower seller premiums for the 2019 spring home buying season.
"In spite of more homes being on the market, our perspective is home prices are stable to slightly increasing this year," he said. "The data is starting to reflect that home prices are not necessarily declining as we're still seeing price increases remaining strong."
So to angle in on the market's hottest days to close home sellers should be looking to be offering their properties for sale soon.
For a free home valuation and to how you can net the most money for your with our guaranteed 5 Star Realty Sales System call us today on 207-553-1377.

To find out how much home in your area are selling for visit: www.NeighborhoodHomeSales.com